Honoring Inez Abbott
The Remarkable International Woman Educator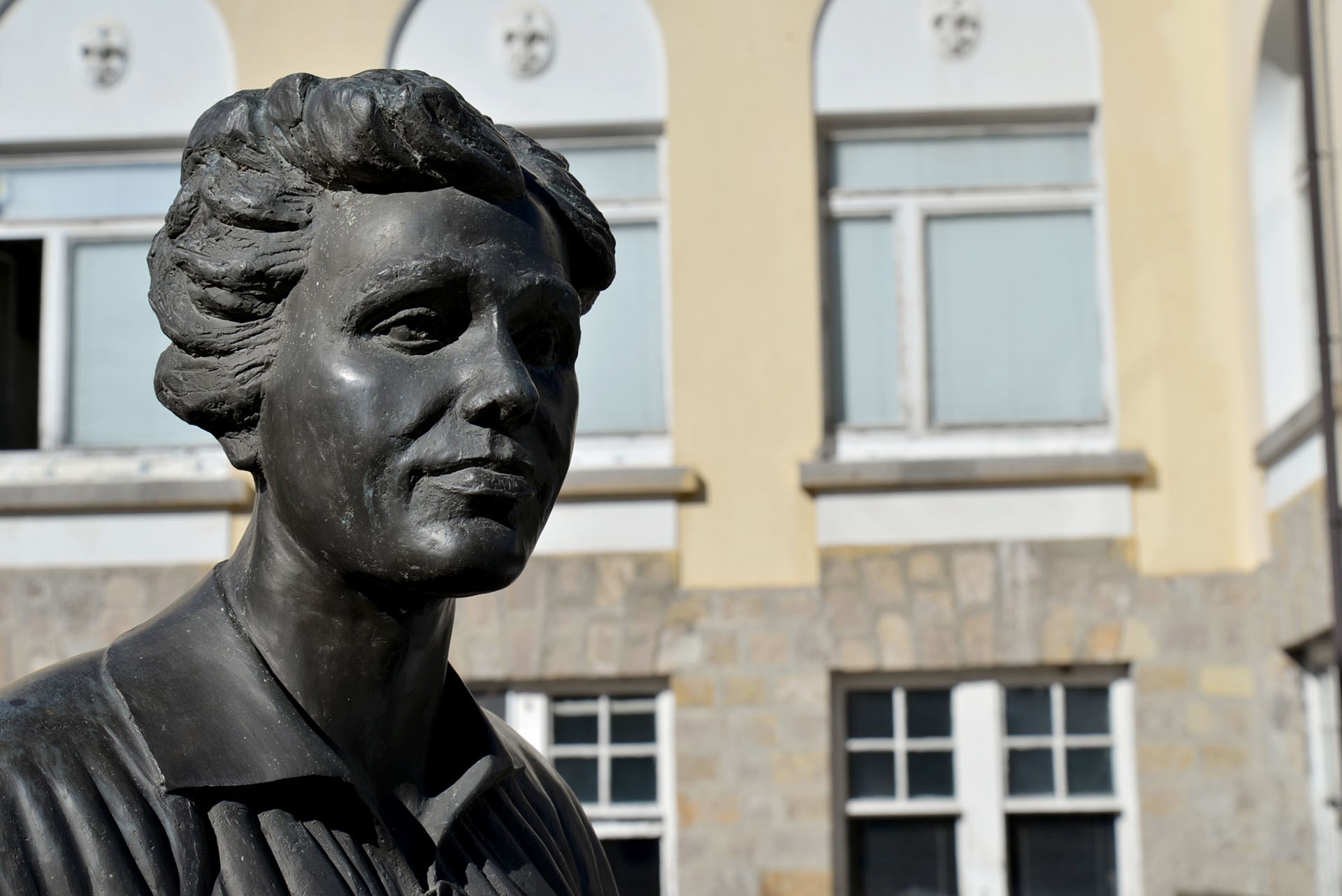 WHAT IS THE INEZ ABBOTT GIVING CIRCLE?
The approaching in 2026 centennials of Inez Abbott's death and the cornerstone setting of Abbott Hall, combined with the current renovation of Abbott Hall, present an opportunity to honor the leadership and service of a female educator who promoted excellence in education for girls and young women in Bulgaria one hundred years ago. We invite all women trustees to serve as founding members of the Inez Abbott Women's Giving Circle at ACS with a proposed goal of funding full scholarships at ACS for talented young women from outside Sofia interested in future careers in leadership and community service.
Giving circles, whose member spool their money, knowledge, and resources for significant social impact, are popular in the United States and the United Kingdom. They allow diverse donors at various giving levels an opportunity to work together in support of philanthropic causes they believe in. Participation in a giving circle can profoundly influence how members think about their individual contributions, transitioning from passive and disconnected giving to engaged and deliberative philanthropy.
Research suggests that giving circles are catalysts for reaching new and diverse donors and increasing visibility in the community. Many potential small-and mid-level donors often are not engaged in giving because they cannot see the social impact of their donations.
Giving circles allow them to join other donors, identify a common cause they believe in, and address organizational needs through strategic investment.
Giving circles offer pathways to participation among alumni at colleges and universities. Alumni engagement is a crucial first step to sustained giving aligned with the strategic priorities of the alma mater. In women's philanthropy, alumnae giving circles have funded projects to address a variety of needs, ranging from addressing shortfalls in financial aid to improving instructional facilities. At ACS, trustee founders of the Inez Abbott Women's Giving Circle at ACS can invite alumnae to become members and invest together to support promising young women students.
Abbott Hall is currently undergoing renovations to update a facility where teachers deliver a 21st century education to some of Bulgaria's most talented students. It is named for Inez Louise Abbott, an American educator and a remarkable leader who devoted nearly two decades of her life to educating girls in Bulgaria.
Inez Abbott was born in 1869 in Lansing, Michigan. She was among a small select group of women in the United States who received higher education in the 19th century, with a B.A. and M.A. from the University of Michigan. Abbott taught Latin and foreign languages at high schools in Michigan and Illinois before her commission as a missionary to the former Ottoman Empire region. Appointed in 1907 by the American Board of Commissioners for Foreign Missions, Women's Board of the Interior in Chicago, she traveled to Bulgaria several months later and became principal of The Girls' School of Samokov. Records from the 1909-1910 academic year reported robust attendance of 99 students at the school – 58 boarders and 41 day pupils. The curriculum was modeled on prevailing academic practices among "the best of national schools".
In the aftermath of the Balkan Wars in 1912-13, Abbott traveled to the United States to raise money for the school in Samokov. Returning to Bulgaria, she continued her work and helped manage the transition of the Boys and Girls schools in Samokov to the American College of Sofia in 1926-27. Unfortunately, Inez Abbott did not live to see ACS flourish. She died of influenza in the spring of 1926 at the age of 57 and was buried in Sofia.
The American College of Sofia recognized Abbott's contributions to Bulgaria, particularly her work to educate girls, by naming Abbott Hall in her honor. The cornerstone of the building, originally a dormitory for girls, was dedicated to her memory on June 2, 1927. To honor the work of a foreign woman educator by naming a building for her was a remarkable occurrence.
WHAT IS THE PURPOSE OF A GIVING CIRCLE AT ACS?
We hope you will consider becoming a founding member of the Inez Abbott Women's Giving Circle at ACS. We believe this giving circle offers an opportunity for ACS female trustees and SAS members to engage ACS stakeholders, particularly alumnae, in the work of the school.
We propose that the initial area of potential interest is funding a multi-year full scholarship for a talented female ACS student from outside of Sofia who exhibits leadership potential. Our selection criteria and distribution process will be developed carefully in alignment with other financial aid scholarships at ACS, and in close coordination with ACS administrators and staff. These types of opportunities for expanded engagement and giving among members of the ACS community are particularly important as we work together to implement the goals set forth in the newly published ACS Strategic Plan.

To educate members of the new giving circle and engage additional donors about the importance and impact of ACS in leadership and service to the community in Bulgaria and beyond, we plan to host two to four educational and/or social events a year (in person and/or online) that highlight the achievements of women in the ACS community. For example, inspirational ACS alumnae, such as Maria Popova '03, might share stories about the founding and scaling of "The Marginalian"(formerly known as "Brain Pickings").We might learn about the success and challenges faced by women leaders in the technology sector through a conversation with Zori Milcheva '97, and about women in science through a conversation with Darina Spasova '05, who worked at Stanford University on aspects of COVID vaccine development.
WHO IS THE INEZ ABBOTT GIVING CIRCLE FOR?
Historically, ACS has been a beacon of female empowerment and we have incredible authors, journalists, artists and scientists among the alumnae.
Such alumnae are poet Leda Mileva and actress Margarita Duparinova from the pre-war generation, as well as Dr. Ira Nasteva '97 who is developing cost-sensitive solutions to COVID-ventilators, Dr. Polina Kehayova '97, Scientific Director of the Molecular and Cellular Biology Department at Harvard University, and Nora Pencheva '05, researcher in neuroscience and oncology, award-winning filmmakers Eliza Ivanova '06 of Pixar and Slava Doycheva '07 who spread the values of our community across cultures and ages with their work.
Furthermore, the successes of the most recent ACS alumnae prove the legacy of Inez Abbott lives on and that makes us believe even more in the benefit of the Giving circle. Some are already gracing the professional theater stages in Bulgaria and across the world like Kalina Kostova from the Class of 2020. Others are rising stars in the sports like golf champion Magdalena Borisova '21. Among them there are also rising STEM researchers with influential contributions to technology like Vladislava Paskova from the Class of2013.
However, this giving circle is not for our alumnae. It is for the female leaders studying now at ACS who are innovating the College with their classwork, student projects and volunteering outside of the school.
We have girls leading the Student Council: Ralitsa Yordanova '24 is currently a co-President of the Student Council and every Committee has a girl on its leadership team. Nikol Petrova '22 is also actively involved in the "politics" at ACS, while also representing the College and Bulgaria as the youngest member of the U.S. Ambassador's Youth Council. The leadership our girls exhibit inspires people beyond our school as well. Two years in a row now we have a representative at the Ambassador for a Day initiative by the Embassy of the United Kingdom: in 2020, Krasimira Kamenova '21 was selected, and in 2021 – Anna Komandareva '22.

The successes of our girls pave the way for other students in Bulgaria to develop their ideas beyond their academic interests.

ACS female artists get praise for their works too: Alexandra Velkova '22 won DeLux 2021, and Divna Kanazirska '23 was awarded Composer's Prize for her piano interpretation of the piece "Verloren" by Sally Wave.
Our female athletes are also among the best in the country, bringing home trophies from podiums across the world. Recently, Mariyana Shalamanova '26 won in total four bronze and three silver medals from the national Swimming Tournament "Rusi Rusev" and the competition "Stefan Popov - Zamorata". Another ACS swimmer, Rositsa Karaivanova'23, competed in "Stefan Popov -Zamorata" as well and won two bronze and two silver medals. Only several weeks before them Marcela Miteva '23 and Andrea Kalcheva '22 became national champions in the State Championship Non-Olympic Classes in Sailing in Tsarevo.
Our girls are also international competitors in the field of technology and innovations: Yana Peeva '21 was the first Bulgarian participant in the international engineering competition Sustainergy, meanwhile Ioana Stankova '22competed as a member of the ACS team in the international hackathon Hack.Moscow in 2020, also the first Bulgarian participation in this competition.
The young women at the College are already engaged in female empowerment movements and are supported by the whole school community. From SIHP projects like "The Power of She," which allowed students to meet with the most influential women in business, education and diplomacy in Bulgaria, to "Protect Women's Tomorrow," which raised awareness about the issue of domestic violence against Bulgarian women, to leading the Economics, Business, API Programming, Politics, Interact, Keep Our Planet Alive clubs and many other organizations at ACS and beyond, the girls dedicate themselves to inspiring their peers to create with the mission of giving back to their communities.
Stories like these illustrate the role of an ACS education as an incubator of leadership and service for women. They inspire us to work together to support the next generations of women leaders among ACS current and future students. We hope you will become a founding member and join us to make this collective giving initiative a personal priority, as well as invite your colleagues and friends to support the Inez Abbott Women's Giving Circle at ACS.
Теодора Конецовска '97
ПРЕДСЕДАТЕЛ НА БОРДА, Настоятел от 2012 г.
Бакалавър по политология и икономика, Колеж Уилямс
Професионалният опит на г-жа Конецовска включва инвестиционно банкиране в Goldman, Sachs & Co. в Ню Йорк с фокус върху производни на лихвените проценти и издаване на акции за частни университети и системи с идеална цел в здравеопазването, както и управление на активи и стратегическо планиране в офиса на Главния финансов директор на Университета Харвард.
Г-жа Конецовска живее в Бостън със своя съпруг и двамата си синове.
Керън Колиас
Настоятел от 2018 г.
Доктор по сравнителна политология и образование, Колумбийски университет
Г-жа Колиас е независим консултант и основател на "Познание без граници" - фонд, посветен на разширяване на социално-икономическото многообразие в образованието чрез свързване на творчество и филантропия. Работила е в сферата на сравнителната политика и образованието с фокус върху Източна Европа и Русия.
Г-жа Колиас живее със съпруга си в Ярдли, щата Пенсилвания, Ню Йорк и Шанхай.